Discover more from The Highly
Timeline
• 2015: Oregon legalizes recreational marijuana.
• 2017: Serra Dispensary leads the way in the luxury dispensary market.
• 2018: Massive industry pains. An oversupply of product has prices plummeting and over 100 farms closing.
• 2019: Portland owns the edible scene.
---
The Scene
Just like they did with craft beer, Portland has leapfrogged its sister states and owns the edible market — by far. The cannabis selection is still surprisingly small, perhaps limited by Portland's trademark rainy weather conditions. Still, there's a sense of true community and transparency that is unparalleled to any other cannabis city in the US and abroad.
---
Where To Go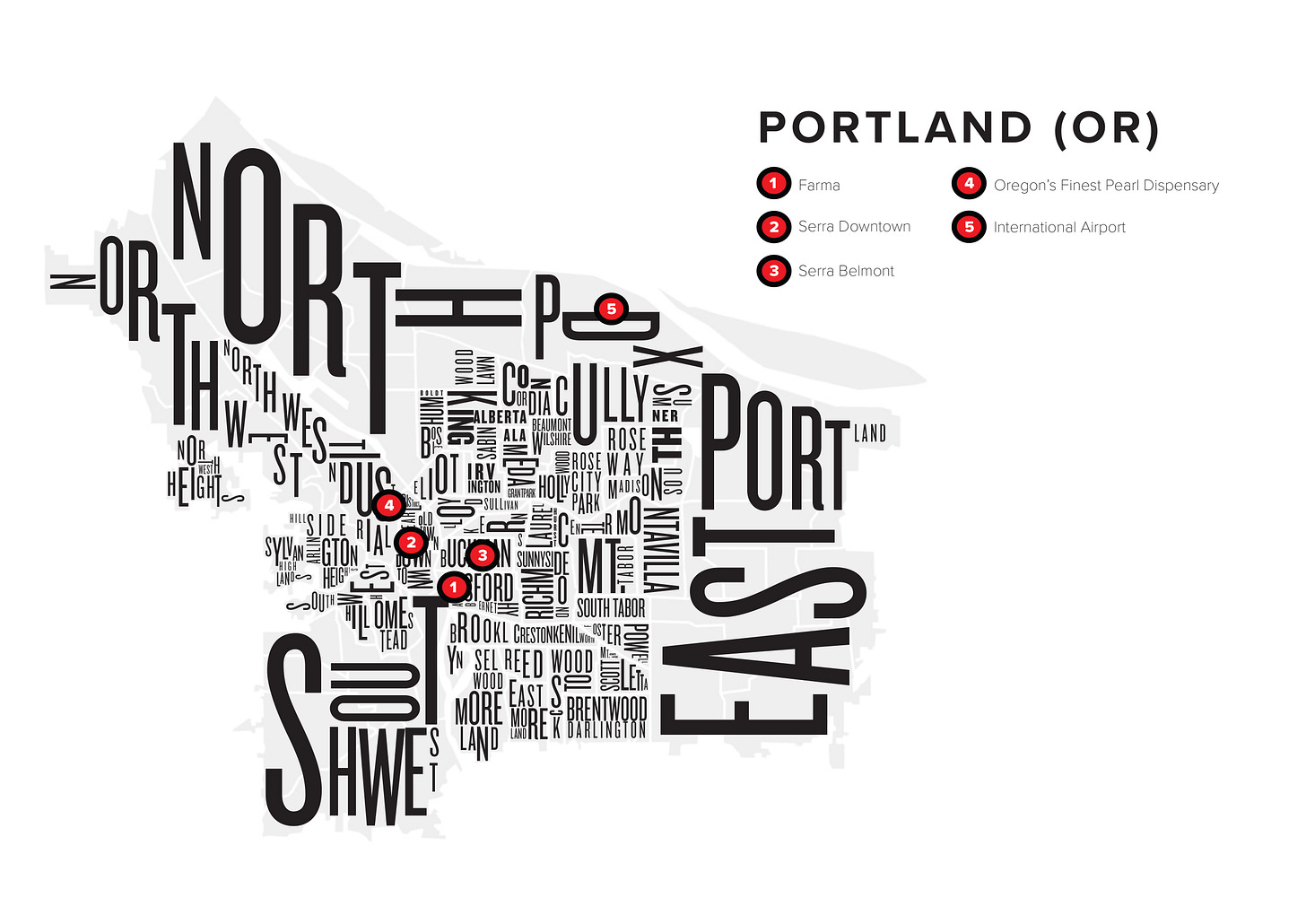 ---
What to Get
---
Flower
1.

HIGH NOON

(Indoor Flower)
High Noon Cultivation is an organic indoor flower farm, founded in 2014 by grower Tyson Lewis.
"Since committing to organic living soil beds, each harvest has produced better flower and greater harvests," — Matt, High Noon
Why it's good: High Noon grows Indoor in Organic Living Soil, and rely on natural pest control such as beneficial nematodes to regulate non-desirable pestilence. All of the soil amendments that High Noon uses are OMRI (Organic Materials Review Institute) certified, which means all their materials and sustainably sourced and produced. The resulting cultivars are some of the most beautiful, terpene rich flower available on the West Coast. Each batch of flower goes through an extensive curing rotation, and is expertly hand-trimmed by a small team of dedicated trimmers. We suggest Shave Ice for a happy go lucky balanced experience or Mendo UV for those looking for deeper relaxation and pain relief.
Pilot was founded in 2016 by brothers Christopher and Matthew Dolinar, or 'Dole' and 'Matt' for those in the know.  Their team brings combined decades of organic produce and cannabis growing experience to their 80 acre farm.
Why it's good: Pilot Farm capture what we consider to be the spirit of the Oregon cannabis industry:  embrace the sun (when it's here), and let the plant speak for itself.
Their Clean Green Certified farm is nestled on a hillside in Ashland, Oregon, and produces high quality, approachable sungrown flower.  They embrace the minimalist approach cannabis, and let the nutrient rich soil of the region do the work for them.
Pilot's farmers only grow from seed, which ensures that each growing season will produce the most unique, genetically hardy crop possible.  Think wine vintages: same general experience, with subtly different notes that indicate seasonal variables.
Pilot largely breed their own genetics, so you can expect a personal experience with each bowl.
Note: Be sure to check their website for availability.  Each cultivar is listed and described with beautiful experience focused detail.  It's also just stupidly well composed; modern design with just enough "far out man" to acknowledge counter culture roots.
3.

GNOME GROWN
(Greenhouse flower)
Gnome Grown grower  (say that five times fast) Dan Macallister has one of the most passionate voices that the Oregon cannabis industry has to offer.  He and his partner Leah have combined decades of growing and agricultural biodiversity experience under their belts, and each day of it shines through with their cannabis.
Why it's good: The Gnome Grown farm employs some of the most cutting edge greenhouse growing technology while embracing a wide variety of traditional organic growing practices.  The soil that they grow in is largely fed by nutrients and ferments grown on their farm, and their water is supplied by an idyllic lazy creek that runs through the back end of their property. 
The flowers smokes clean, and is never harsh; a point of pride for Dan.  Their team of trimmers do a great job of manicuring, but leave a little of the plants personality on each bud. Each strain that Gnome Grown produces is an elevated version of it's genetic lineage.
What to try: For consumers looking for an invigorating or highly social experience, their Durban Poison or Last Laugh can't be beat.  For those looking for a more relaxing but functional experience, the Banana Punch or Zkittelz are simply sublime.
---
CBD
Anyone who's anyone in Portland's cannabis scene, knows that East Fork Cultivars is behind most of the high-end CBD brands in Oregon. Brothers Nathan and Aaron Howard started East Fork Cultivars in 2016 with the intention of growing superior cannabis to help their older brother cope with his medical condition. When they saw how effective their products were, they decided to grow for all Oregonians. Their business partner, Mason Walker, completes the trifecta and has become the heart of the operation.
The cannabis trade has the opportunity to be a better industry. The best way to get there is for everyone to have higher expectations of businesses and business owners. — Nathan Howard, Founder East Fork Cultivars
Why It's Good: East Fork's Farm is Clean Green Certified, another way of saying 'organic'. Organically sungrown grown in a small town of Taklima, an informal artist colony located four miles from the California border. They recently added a hemp farm for CBD without the high. Big news: this hemp farm is USDA Organic. A very rare stamp in the cannabis space. EF offers CBD-rich, CBD-dominant, and THC-dominant flowers. Joints come in unbleached rice paper (our preference).
Mason and the East Fork team are also the minds behind a free educational program called CBD Certified aimed at helping dispensaries and budtenders round out their scientific knowledge to guide customers on a CBD experience. Thanks, team!
Their website is digestible and includes lab results, potency, terpene profiles, and fun notes on each particular strain.
Pro tip: We mix the CBD-rich flower in with our other flower for an added bit of protection from inflammation while smoking.
---
Vapeables
Founder Marley set out to make a cannabis product he would want to consume himself. Luckily for us, he reverse-engineered it.
Why It's Good: We describe these live resin vapes, as the "Scotch of Cannabis" - staying true to the plant with their Artisn(TM) technique. This heavy, special live resin is as pure as you can get and results in a full experience that the entire plant in all its glory has to offer. In a beautiful move that echoes the wine industry, EVOLVD lists each product's origins on the inside of the box: sun-grown or indoor, the cultivator, the harvest year and season. Hat-tip to Marley for full transparency. Clean Green Certified. Tailored extraction methods to each strain. Heavy and special occasion. The cartridge is glass and stainless steel with a ceramic coil.
Note: We recommend pairing with the EVOLVD medical-grade stainless steel atomizer to avoid unnecessary harshness on the throat.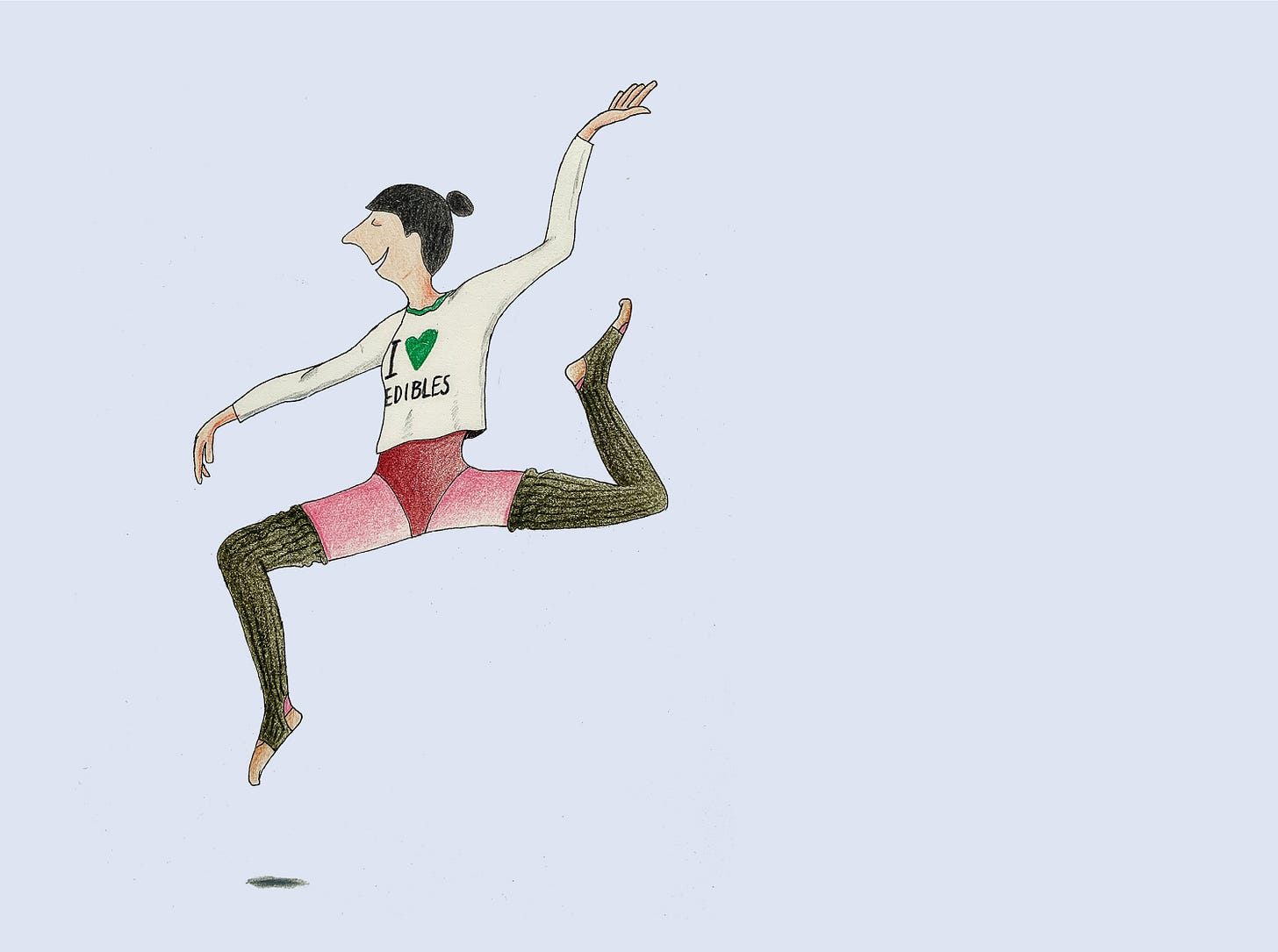 ---
Edibles
Husband/Wife team, Carrie and Joe, give us a foodie's dream by making cannabis feel gourmet.
"We use a form of cannabis oil called Full Extract Cannabis Oil, which is an ethanol-based, extraction that maintains the presence of both major and minor cannabinoids, and is completely purged of all solvents during the course of extraction process. Because of its full spectrum of cannabinoids, FECO provides a more balanced set of sensations, as well as the beneficial entourage effect for the user, whether through edible or topical use. " — Carrie Solomon, Co-Founder of Leif Goods/Greater Goods
Why It's Good: It's impossible to forget Leif with their memorable flavors and vibrant packaging — all while giving us the gift of products that are high in CBD and great for treating inflammation. Derived from sun-grown cannabis from Siskiyou Sungrown. Made with FEC (a concentrated form of cannabis oil known to have medical benefits). Non-GMO and fair trade with no chemicals or additives.
We have a particular obsession with the balanced CBD:THC 1:1 Mint Hibiscus bar
---
In 2014 Peak Extracts co-founders Katie Stem and Kate Black started their company with an empathetic mission in mind: provide consistent custom-tailored experiences based on uncompromising quality and integrity.
Why it's good: In our opinion, one thing really sets Peak apart from most other edible manufacturers in the Oregon market: All of their edibles are strain specific, and use their proprietary Terp-Lock™ extraction process that retains the character and effects of the original strain from which they are extracted. In fact, Peak Extracts are one of the only manufacturers in Oregon that make their own extractions for products.
All of their chocolate is sustainably sourced, and melts in the mouth in such a luscious, velvety way.
As an added bonus, all of their chocolate is vegan/gluten/nut free.
What Sets Them Apart: Woman owned, women lead company with nearly a decade of experience in the cannabis industry. Strain-specific edibles for a consistent, predictable experience. Clearly labeled, color-coded packaging for a breeze of a shopping experience
Peak works with some of the most respected farms in Oregon, including Yerba Buena and East Fork Cultivars.
---
Serra was originally founded in 2015 as a design-forward alternative to the standard stoner stylings of many of the dispensaries in Portland.  Their stores offer a carefully curated variety of cannabis products as well as cannabis focused home goods hosted in delicately but expertly crafted display cases; their entire stylistic ethos personifies their namesake, which is Italian for "greenhouse".
 Why it's good: In 2016 they introduced their collaboration with Woodblock chocolate, widely known as one cities premiere chocolate makers.  These edibles are astoundingly delicious.  The simplicity of ingredients allows the chocolate to speak for itself and let me tell you, this cocoa contains multitudes.
Serra has also expanded in to more niche aspects of the edible market with the recent launch of their caramels and gumdrops.  
The gumdrops are made with real fruit puree and no refined sugars, which is a welcome change in an industry rife with corn syrup and artificial flavorings.  They come in a wide range of THC/CBD ratios, and with flavor combinations like spicy passionfruit, strawberry basil, and tart cherry, it seems nearly impossible to make a wrong decision.
Truly though, the real standout are the caramels.  Serra's confectionary team have continued their partnership with Woodblock, while also incorporating Portland legend such as Jacobsen's Salt and Stumptown Roasters to make some of the tastiest treats I've had in the Oregon cannabis market.
 All of their products very clearly direct customers to necessary cannabinoid ratio and dosing information without feeling overbearing or cheekily hand holding.
---
The meteoric rise of Gron chocolates is impressive, to say the least.  Since their establishment in 2014, their name has become nigh-ubiquitous to the Oregon cannabis industry.  In our opinion, this is duly deserved.
Christine Smith started Gron with the intention of creating a craft-focused response to the not-yet-cohesive edible market that existed in the pre-recreational industry that existed at the time. 
Why it's good: Conscious consumers have plenty of reason to celebrate, as all of their chocolate is fair trade certified, and all ingredients are locally sourced, organically produced and really damn delicious.
Gron's chocolatiering horizons have broadened considerably in recent years.  You can expect to see edibles ranging from white chocolate blueberries to peanut toffee dark chocolate bars, and everything in between. 
Christine and Co. offer a huge variety of cannibinoid ratios with their chocolates, so consumers of all tolerances should have no fear of finding a product that is right for them. They have also devised a way to derive CBD from tree bark and lichen, which we find to be particularly fascinating, and yet another new horizon for the cannabis industry to chase.
Note:  For those with an enthusiasm for CBD, Gron recently opened up an all CBD café.
---
Tinctures
Founders Sally and Devan's inspiration was sparked after Devan began fiddling with cannabis recipes to heal after a back injury.
Why Its Good: Luminous is mastering things differently with a new approach to ratios of long and medium chain triglycerides. Meaning: the path of absorption goes through the lymphatic system vs. going through the liver. The end result is a higher absorption rate of cannabinoids and a very smooth, long-lasting effect with an equally subtle exit. To top off a superior product, Luminous impresses us with their values of "support the world you want to live in"  by offering this formula as an honest 3-in-1 tincture, topical and sensual. Our wallet thanks you, Luminous! Sun-grown organic CBD flower from East Fork Cultivars. THC sourced from Green Source Gardens - Clean Green Certified. Blended with essential oils. Mild taste and long-lasting. Earth is our favorite.
For topical use, THC is effective for localized muscle and joint soreness. We have a few massage therapists here in Portland that use Sky blend in their massage practices, diluting it by 10 for full body work, and using it full strength on problem areas. A massage with Sky blend is REALLY powerful. It doesn't make you feel high, but it makes you feel incredibly relaxed. CBD can be useful topically for treating inflammatory conditions of the skin, or mild skin injuries like sunburn or scrapes and bruises. Meadow provides some of the pain relieving qualities of THC plus the anti inflammatory effects of CBD. I use Meadow as aftershave on my face - the THC reduces any burning feeling, and the CBD reduces redness.

— Devan, Founder of Luminous Botanicals 
---
Topicals
This line is made by the team behind Leif Goods. Yep, they did it again.
Why Its Good: These THC and CBD plant-based vegan balms come in two scents, Wood and Field, and boast the highest potency in Portland. If you're new to using cannabis-infused topicals, rest assured that this high-performing balm won't make you high. Derived from sun-grown cannabis from Siskyou Sungrown, combined with arnica and essential oils. Great for aches, pains, and tension. Amazing on dry skin, eczema and mild irritations.
Empower creator, Trista, discovered her calling after a dustup with the anti-cannabis aspect of the legal system: she was arrested for possessing three young cannabis plants. Trista was acquitted by a jury, but the experience lit the fuse of her work in anti-prohibition activism and the creation of the Empower line.
Why Its Good: Derived from organic sun-grown cannabis at Yerba Buena Farms. High-quality ingredient list: pharmaceutical-grade epsom, pink Himalayan salt, and ethically sourced Dead Sea salts, essential oils. Non-psychoactive.
Our favorite part: This product supports a creator-activist pushing for cannabis law reform.
---
Sensuals
Founders Sally and Devan of Luminous (above) nailed it 🤣 again with a product specific to sensuals.
Why its good: Cannabis lube is essential for cannabis lovers. Why? Because sometimes cannabis dries eyes, mouths and yoni's. So basically, this should always be around, just in case. The consistency is light, the taste is just a hint weedy. We appreciate the slight weedy taste mixed with sex, as opposed to the weedy taste, mixed with sex, mixed with cover up scents! The High THC Blend is used to accelerate arousal and enhance feeling. Balanced THC/CBD blend eases discomfort and delays climax. Takes 15 minutes to kick in and not compatable with latex condoms.
We find The Comfort Blend to be a staple in the medicine cabinet for deliciously sore days. 💋
DEW is wonderful for oral sex. It smells and tastes delicious, and because it's made with only organic, food-grade ingredients you don't have to worry about getting it in your mouth, making it easy to move fluidly between oral and penetrative sex. Of course anytime you ingest cannabis oil there is a chance that you'll catch a buzz, so caution should be used. 

Devan, Founder of Dew
---
Crossing state lines with cannabis is a federal offense. Please don't call us from jail 🤦🏻‍♀️
---
Master List
Go - Farma, Serra Downtown, Serra Belmont, Oregons Finest
Get - High Noon, Pilot Farms, East Fork Cultivars, Leif Goods, Gron Chocolate, Serra, Luminous Botanicals, Empower Bodycare, Physic, Peak, Dew by Luminous
Eat - Irving Street Kitchen Chef Sarah Schafer has a flair for combining sweet, salty, bitter and sour flavor profiles that cater perfectly to a high palate.
---
"I thought I was thriving. I had no clue I was breaking."

-Stoner epiphanies